Center for Ecological (Un)learning (CEU) is a studyline by The Outsiders and Casco Art Institute: Working for the Commons, initiated to build a sustainable platform for ecological practices that conjure art, agriculture, and the commons in the area Leidsche Rijn, a sprawling new residential neighborhood in the Dutch city of Utrecht. The first official phase of this collaborative endeavor was Erfgoed (Agricultural Heritage and Land Use), a project that took place at the dilapidated Terwijde Farmhouse. This was once part of a large tract of farmland called Terwijde but is now surrounded by the Terwijde shopping-residential complex (named after the farmland) and its namesake train station. This farmhouse is emblematic of the changes that have taken place in lands around the world during the last decades – colonization, urbanization, and ecological destruction. We approached it with the hope that we might cause another wave of change to counter these processes already set in motion.

It took a while, but through numerous encounters, conversations, and moments of silence we gained the trust of the family of the farmer who owned the farm. Eventually they allowed us to use it. The Outsiders and the Casco team then moved into active work to open up the farm to the neighborhood, drawing inspiration from the many questions and stories that surround it. Why is the farmhouse empty? Where has the farm relocated? If the farms in the area are gone, then where does the food for the residents of Leidsche Rijn come from? Where and how are the farmers who left? We opened the questions further to the community: What are the future possibilities of this farmhouse and how can "we" – in common – make it happen? This initial premise of openness was a way to investigate ecological practices that our highly urbanized and industrialized societies urgently need to engage with. An agricultural growing cycle was the framework of time we put forward, from winter preparation to sowing time in spring to autumn harvest in 2018.

What follows is an assemblage of stories from some of the neighbors and artists who were active in animating the farmhouse and turned it into a site of what we call "commoning" – a collective process of opening up private or public domains with new dynamics proposed with, for, and by the communities around them. At the time of writing, Terwijde Farmhouse is now in the ownership of a developer and will be renovated into a restaurant and crèche. Our stories shall continue around it, and the recent memories from the time of cohabiting that farmhouse will nourish the soil for our growing together.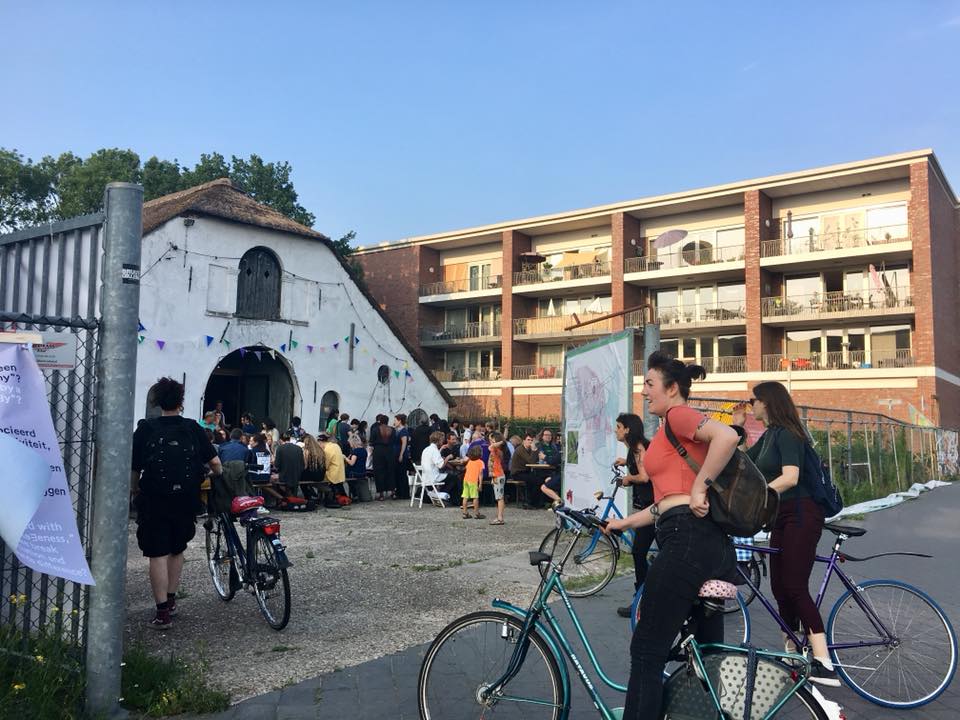 Fig. Welcome to Erfgoed during the launch day of Casco Art Institute: Working for the Commons, 9 June 2018. Photo:The Outsiders